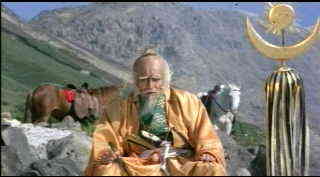 Wednesday night, I watched another really interesting film. It was my first Akira Kurosawa film, Ran.
My opinions on it are decidedly mixed at this point, though that's a good thing. I was entertained by it, and I was impressed by bits of it, but I wasn't amazed by it the way many people seem to be.
Based on Ran and what I've heard others say, I think that Kurosawa is a filmmaker's filmmaker, not a filmgoer's filmmaker. Ran is certainly entertaining for filmgoers, but I think it's valuable primarily for the library of techniques and tricks he uses to evoke particular moods and style. Ran is a good film, perhaps even a great film, but it's not a fundamentally amazing film like, say, Crouching Tiger, Hidden Dragon or Once Upon a Time in China.
Of course, I haven't seen Kurosawa films like Rashomon or The Seven Samurai or Yojimbo, so I'm trying very hard to hold off any sweeping generalizations about all of Kurosawa's work.
Oh, the story? It's a rewrite of Shakespeare's King Lear, set in 16th-century Japan. He merges some actual history with Lear with his own story to provide a remarkable film about the final days of a power-hungry lord, and how his own power ultimately brings him down. Interestingly, this is a complete reversal from the story of Lear, who proclaims truthfully, "I am a man more sinned against than sinning." This lord is a deep sinner, and his sins return to drive him back into madness.
So it's a downer of a film, yes. However, that's balanced with a sense of deep morality. This is not a result of the capriciousness of the gods; this a man reaping what he has sown.